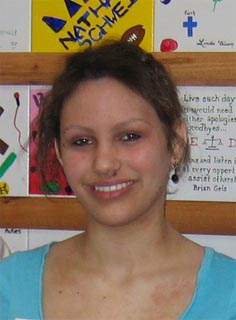 1. Laura Valmanis is the ideal candidate to be honored with placement on Ragan's Wall

She is a student who stands out in any crowd of high school students no matter whether the measuring stick is scholarship, leadership, humanity, involvement, or positive influence on others. It is a joy to know her and to work with her daily!

Laura makes the most of her many talents with strong determination, an unbeatable positive outlook on every situation and a willingness to put in whatever hard work it takes to achieve her goals.

I have watched her gather others into study groups for test review and work cooperatively with them to be sure they all are thoroughly ready for the test. Not only has this resulted in very high grades on the test for all of them, but it has also had dramatic effects on turning around the attitudes of the students in her self-organized group. They are now working harder and see themselves as more successful. Her optimism and happy attitude are very contagious. I have yet to see a day when she has not come in with the big smile on her face and a bright outlook on the day's activities.
Laura is very concerned about people and problems all over the world and very generous of her time to help others. She is involved in multiple activities involving leadership and service: National Honor Society with the most volunteer hours and as the treasurer, Habitat for Humanity, SADD (Students Against Destructive Decisions), LINK (a mentoring group of 11th and 12th graders helping incoming freshmen) Crew, CLASS (Chemically Free Leadership and Student Support which organizes chemically free outings and activities), Youth Teaching Youth, Cap Agency, Model United Nations, camp counselor, religious education teacher, AATG German Summer-Study Program, Deutsch Culture Club, sports, band, plays speech team, and concession stand work. In all of her activities she is a positive leader who encourages others and brings out the best in them.

Does Laura Valdmanis demonstrate generosity, a positive attitude, a strong character, and a good sized list of person accomplishments? Definitely yes, and she is a great role model who deserves the honor of placement on Ragan's Wall.

2.

a) attitude - Laura is always upbeat, positive and enthusiastic.

b) character - She is a young lady of integrity. I would trust her to the end of the earth.

c) accomplishmentsm Jr./Sr. Years
MBNA telethon
community fest
Youth teaching Youth
Link ???
Culture Club
Kids voting MN
Habitat for Humanity
On Appleby Pond
Parents Night out
Candy grams
Cocoa and Cream
Bloodmobile
Tutoring
helping Senior Citizens through CAP Agency
Operation Christmas Child
the Latvian Bizone
Bell ringing
Fish Bowl tank
Baggy groceries
Kindergarten Math night
NHS - treasurer
2nd harvest food shelf food collection
She goes way beyond the minimums